We are delighted to be open
Our Queen's Birthday hours on Monday 1 June are 12 till 6.
There are Covid-19 protocols in place to keep our staff and customers safe.
Please abide by these and please don't visit us if you are feeling unwell.
Please note, we will NOT be buying or exchanging books under Level 2.
Thank you for your on-line support during Level 3 and for your patience with the delays in delivery.
We look forward to seeing you all in store soon.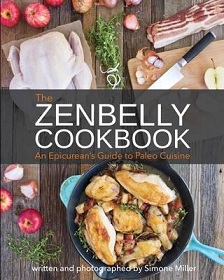 Title:
The Zenbelly Cookbook - An Epicurean's Guide to Paleo Cuisine
With a focus on quality ingredients, technique and balancing flavours, The Zenbelly Cookbook will take the reader on a journey that will leave any feeling of restriction behind. With over 100 real food recipes, it covers every course and occasion; from simple weeknight meals that can be made for the family in under 30 minutes, to elegant multiple course dinners that will impress any guest. Each recipe has a beautiful image of the ingredients laid out, which helps the reader easily see the before and after.