UPDATE - Selling books to Arty Bees.
We are accepting books for exchange at the moment.
We may buy selectively for cash, but please contact us first.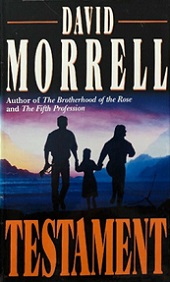 After creating Rambo in his debut novel, First Blood, David Morrell wrote his most intense novel, Testament. Its publisher called it "almost unbearably involving." Hunted by a powerful enemy, a man and his family flee their home and civilization. This thriller classic influenced many later thriller authors. It is not for the faint of heart.