We are delighted to be open
Our Queen's Birthday hours on Monday 1 June are 12 till 6.
There are Covid-19 protocols in place to keep our staff and customers safe.
Please abide by these and please don't visit us if you are feeling unwell.
Please note, we will NOT be buying or exchanging books under Level 2.
Thank you for your on-line support during Level 3 and for your patience with the delays in delivery.
We look forward to seeing you all in store soon.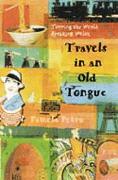 Studying in Lampeter, Dyfed and learning Welsh, Pamela Petro found it infuriating that whenever she stumbled with her Welsh, the locals would always revert to English. She decided to go where English was not an option - all kinds of unlikely places with long-standing Welsh-speaking communities. She visited the Hong Kong Men's Choir, all Chinaman who sing in Welsh; the Japanese bardic eisteddfod in Tokyo; the Welsh golfers of Oslo; the diners of the Paris Welsh society; and Patagonia.