We are now accepting books for exchange only.
Please ring first if you have more than 3 boxes to bring in.
We are not buying books for cash yet. We will keep you posted.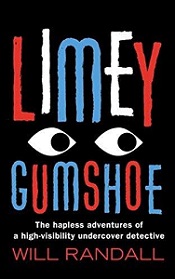 Title:
Limey Gumshoe: The hapless adventures of a high-visibility undercover detective
House-sitting in Boston one winter, Will Randall picks up with one of his more disreputable travel buddies, Jack J. Makepeace, and life gets a great deal more exciting. Makepeace introduces Randall to his current employers, Chestnut Investigations, and soon Will finds himself appointed apprentice Private Investigator. He tails mongrels and errant husbands, attends a seminar on Blood Spatter and is recruited in a lapdancing club by an anti-government go-go girl. Then emotional stakes are suddenly raised when Will Randall, unlikely Limey Gumshoe, finds himself investigating the disappearance of a sixteen-year-old girl from her affluent home, and fighting to save a vulnerable boy from the housing projects from a miscarriage of justice. With his latest adventures in Limey Gumshoe, Will Randall gives us an often hilarious, sometimes scary, eye-opening perspective on the bizarre world of private investigation.