Due to Covid 19, Arty Bees is
now closed until further notice.
Including on-line shopping.
We'll see you when things get back to normal.
Stay home and stay safe.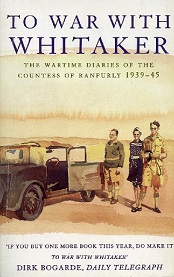 When WW2 broke out, Dan Ranfurly was dispatched to the Middle East with his faithful valet, Whitaker. These are the diraies of his young wife, Hermione, who, defying the War Office, raced off in hot pursuit of her husband. When Dan was taken prisoner, Hermione vowed never to return home until they were reunited. For six years, travelling lone from Cape Town to Palestine, and meeting such charismatic characters as Churchill, Eisenhower and a parrot named Coco on the way, she kept her promise... These absolutely spiffing diaires offer a madcap, aristocratic window behind the lines of war...