Due to Covid 19, Arty Bees is
now closed until further notice.
Including on-line shopping.
We'll see you when things get back to normal.
Stay home and stay safe.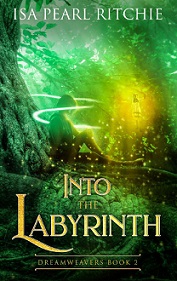 Title:
Into the Labyrinth
A sound broke through the usual calm - the same cracking sound I had heard while I was awake! The fragments Awa Bryant trapped just after she learned she was a long-awaited-for Dreamweaver are terrifyingly close to breaking free – so close that even in the waking world she can hear their efforts to crack their giant glass dome prison. Veila the Dreamcharmer is training her to use her powers, but Awa is impatient, distracted and still struggling with anxiety in her waking life. Yet, the threat grows stronger. She learns from Veila and the Priestess Tree that she must find the mysterious Dreamrealm labyrinth in order to master her powers and learn to alchemise the fragments before they can do more harm. Even with the training and the guidance she's received, can she succeed in her quest and defeat them before the marvellous Dreamrealm is destroyed?