We are delighted to be open
We are open normal hours.
There are Covid-19 protocols in place to keep our staff and customers safe.
Please abide by these and please don't visit us if you are feeling unwell.
Please note, we will NOT be buying or exchanging books under Level 2.
Thank you for your on-line support during Level 3 and for your patience with the delays in delivery.
We look forward to seeing you all in store soon.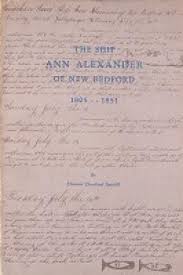 The Marine Historical Association, Inc 1962 In the Ann Alexander's duel roles as merchantman and whaler, she helps bring out the little-known careers of the humble square-riggers of the 18th century, who traded American goods, and the bluff whaleships, voyaging all around the world, who brought in their valuable cargoes of oil. Her crews never got rich; her officers made the usual salaries and shares in the proceeds; she sailed in seas where other craft had foundered, visited islands where crews of other vessels had been massacred; rounded the Horn with no loss of men or spar. And then, on her last voyage, in a swift final hour, she is attacked by the creature she pursued and made history in the same unusual manner as the more famous Nantucket whaleship Essex. Between New Bedford and Trafalgar, the great South Seas and the monster whale, much happened to the Ann Alexander. To follow the life story of this square-rigger helps us appreciate the humble years of her voyaging and of the voyagings of her hundreds of companion vessels as well as to better understand some of the history of the times in which they sailed...