Monday is Labour Day.
Our hours are 12-6.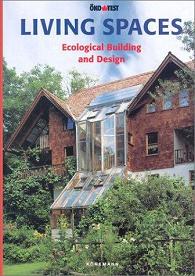 Title:
Living Spaces: Ecological & Sustainable Building and Design
Konemann, 1999. Good second-hand condition. 479pp with 226 Topics covered under 27 Headings. Includes the following: Natural Building, Energy Efficient Building, Solar Architecture, Cost effective Building, Insulation, Acoustic Control, Fire Protection, PVC in Building, The Site, Wall Construction, Roofs Construction, Ceiling and Floor, Mineral Building Materials, Wooden Building Matreials, Insulating Materials. Vast collection of illustrations, diagrams, tables, scale plans, innovative buildings etc.