UPDATE - Selling books to Arty Bees.
We are accepting books for exchange at the moment.
We may buy selectively for cash, but please contact us first.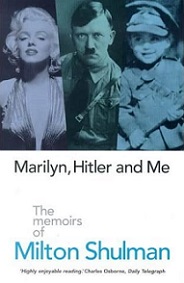 Title:
Marilyn, Hitler and Me - The Memoirs of Milton Shulman
Milton Shulman has been a much-loved and outspoken arts critic for the Express and then the Evening Standard for forty years. These are his witty, anecdotal memoirs on the careers, interviews and encounters over the years. His broadcasts on Stop the Week as well as frequent radio and TV appearances have made him a nationwide figure....