UPDATE - Selling books to Arty Bees.
We are accepting books for exchange at the moment.
We may buy selectively for cash, but please contact us first.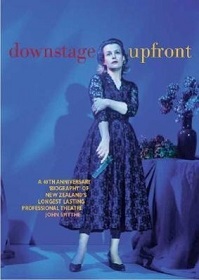 Title:
Downstage Upfront - The First 40 Years of New Zealand's Longest-Running Professional Theatre
Victoria University Press, 2004. Inscription on title page, otherwise very good condition. In its first 40 years, from conception to maturity, through stages of growth both painful and pleasurable, Downstage 'New Zealand's first and longest running regional professional theatre company' has lived an extraordinary life. This large and lavishly illustrated biography is published to celebrate Downstage's birthday. It covers all the dramas and larger-than-life personalities that have characterised Downstage's life, and the many great productions such as Colin McColl's internationally acclaimed relocation of Ibsen's Hedda Gabler to Karori. A major contribution to New Zealand's cultural history...