Anzac Day Hours:
Sunday 25 April - ANZAC Day 1-7pm
Monday 26 April - 12 -6pm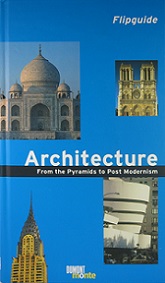 Title:
Architecture - From the Pyramids to Post Modernism - Flipguide
Just what you've always wanted - history at a glance - clearly illustrated and presented. - a diagram of knowledge. This is where a flipguide comes in handy, by providing a detailed overview, it enables us to see connections clearly and to grasp the movement of entire epochs...