We are open on the Wellington Anniversary from 12pm until 6pm.
Arty Bees is now operating under Orange restrictions.
You can order via our website.  All web orders are delivered via courier and NZ Post. 
Store pick ups can be ordered online or organised by phone and email.
To keep up with all the Arty Bees news subscribe to our newsletter at the bottom of the page.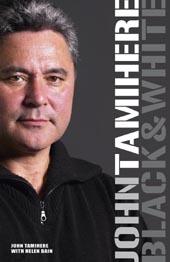 Title:
John Tamihere - Black and White
Eagerly awaited and much talked about, John Tamihere: Black and White is The big title for Father's Day 2004. Labour MP for Tamaki Makaurau, high-profile and outspoken cabinet minister, widely tipped as the rising star of the Labour caucus and a potential prime minister - John Tamihere crosses the divide between Pakeha and Maori as no other leader does. In these times of heightened racial tension, this book of Tamihere's life puts the issues of race, success, accountability and nation-building into the practical context of real life as he knows it. And if there is one thing that Tamihere understands, it is real life in New Zealand. Here is a man who grew up dirt poor in West Auckland, struck out to get a university education, defended his brother from charges of murder, turned the struggling Waipareira Trust into a national model for private providers of social services, suffered personal setback and threats to his safety, took on the tribal mafia to win recognition for urban Maori, survived a baptism of fire in Parliament - and has emerged as a visionary leader who talks straight about the way ahead for New Zealand.
Second hand Trade Paperback