We are delighted to be open
Our Queen's Birthday hours on Monday 1 June are 12 till 6.
There are Covid-19 protocols in place to keep our staff and customers safe.
Please abide by these and please don't visit us if you are feeling unwell.
Please note, we will NOT be buying or exchanging books under Level 2.
Thank you for your on-line support during Level 3 and for your patience with the delays in delivery.
We look forward to seeing you all in store soon.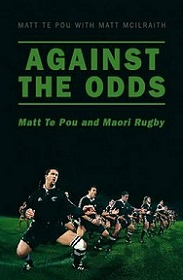 Title:
Against the Odds: Matt Te Pou and Maori Rugby
Huia, 2006. Signed by the author. Against the Odds - Matt Te Pou and Maori Rugby describes how Matt Te Pou's coaching of the Maori rugby team achieved a winning record envied in the rugby world. Matt takes us on his journey giving valuable insights into his coaching style, motivational prompts and we see how his military background was important to success. Containing life lessons and some exclusive player contributions, this is a must read for those who love rugby or appreciate Maori heritage.
Second hand Trade Paperback