Thanks to everyone who saw our note that we are buying again.
The response has been huge.
So huge that we need to slow down in order to get all the books
we have bought over the last 2 weeks on the shelf for you to buy.

We are still buying but selectively.
So, please call if you have more than 3 boxes.
Some sections are overflowing, particularly children's, detective and cooking.

On a similar note if you are looking for
Children's books, detective novels or cook books, we have heaps of new stock.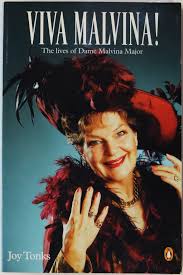 Title:
Viva Malvina! The Lives of Dame Malvina Major
Penguin, 2003. Reasonable secondhand condition. In this book Dame Malvina Major talks openly about her life, her dreams, the disappointments, and the tremendous spirit that has kept her singing for almost sixty years. She relates fascinating aspects of the performing life, and behind-the-scene stories reveal her humanity and humour. As a child, daughter, wife, mother and grandmother, the same personality shines through, fuelled by her love of singing and her dedication to her family, home and New Zealand.
Second hand Trade Paperback