We have stopped buying, we are accepting lots for exchange and credit.
Our Winter operating hours are
Monday to Thursday 9am - 6pm
Friday 9am -7pm
Saturday 10am - 7pm
Sunday 11am - 6pm
Arty Bees is now operating under Orange restrictions.
You can order via our website.  All web orders are delivered via PBT Couriers or NZ Post. 
Store pick ups can be ordered online or organised by phone and email.
To keep up with all the Arty Bees news subscribe to our newsletter at the bottom of the page.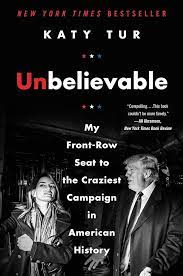 Title:
Unbelievable - My Front-Row Seat to the Craziest Campaign in American History
Dey St - William Morrow, 2017. Good secondhand copy.
Called "disgraceful," "third-rate," and "not nice" by Donald Trump, NBC News correspondent Katy Tur reported on—and took flak from—the most captivating and volatile presidential candidate in American history.
Unbelievable is her darkly comic, fascinatingly bizarre, and often scary story of how America sent a former reality show host to the White House. It's also the story of what it was like for Tur to be there as it happened, inside a no-rules world where reporters were spat on, demeaned, and discredited. Tur was a foreign correspondent who came home to her most foreign story of all. Unbelievable is a must-read for anyone who still wakes up and wonders, Is this real life?