We are delighted to be open
We are open normal hours.
There are Covid-19 protocols in place to keep our staff and customers safe.
Please abide by these and please don't visit us if you are feeling unwell.
Please note, we will NOT be buying or exchanging books under Level 2.
Thank you for your on-line support during Level 3 and for your patience with the delays in delivery.
We look forward to seeing you all in store soon.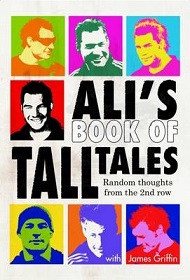 Title:
Ali's Book of Tall Tales - Random Thoughts from the 2nd Row
Hodder Moa, 2009. Signed by Ali with dedication 'To Kahu...' Ali Williams breaks the mould as an All Black tight forward. A confirmed urbanite, Ali Williams switched his Super 14 allegiances from Auckland to Christchurch in 2007 after a much-publicised bust-up with Australian coach David Nucifora. In this book Williams will take a light-hearted look at rugby at the very top in New Zealand and will touch on some of the more controversial aspects of his career - including his earth-shattering dismissal from the Blues' tour of South Africa in 2007. As well, Williams will revisit the failed 2007 World Cup campaign, look at the All Blacks' rotation and reconditioning policies; the famous incident when his jaw was broken in a collision with Frenchman Sebastien Chabal and analyse differences in the Crusaders and Blues setups. He will also talk of his charity work and explain the reasons why he stayed in New Zealand after the World Cup and thus turning his back on the big bucks on offer in Europe.