We are open on the Wellington Anniversary from 12pm until 6pm.
Arty Bees is now operating under Orange restrictions.
You can order via our website.  All web orders are delivered via courier and NZ Post. 
Store pick ups can be ordered online or organised by phone and email.
To keep up with all the Arty Bees news subscribe to our newsletter at the bottom of the page.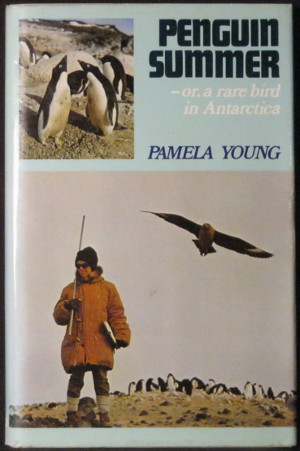 Being married to an Antarctic zoologist can make for a stimulating life, but after Pamela Young of Christchurch became an ice-widow for four summers in a row she put her foot down and said, "Right, the next time I'm coming with you!"
She went - and this book is her record of life as one of the few women to visit the Antarctic. A rare "bird" indeed! But it was birds - two particular species, the Adelie penguin, and its predator, the skua - that she and her husband Euan had come to watch. As his assistant she spent many hours observing the rookery, eventually getting to know particular favourites such as Sam-I-Am, the suka.
It was a facinating experience, and Pamela Young has the gift of being able to share it graphically. In this book there are absorbing details of birdlife, incisively written with keen observation and humour. And, as a bonus, the photographs of skuas and penguins are superb.
Pam comes through it all with friendliness, humour and keen observation.
- from the dust jacket.
Penguin Summer - or, A Rare Bird in Antarctica.
Pamela Young.
A.H. & A.W. Reed.
Wellington.
1971.
First edition.
Hardback.
Pale green boards with gold titles on the spine.
166 pages.
Good second-hand condition.
Binding tight.
Pages clean.
Top corner of front end-paper clipped.
Security tag affixed to bottom corner of back end-paper.
Dust jacket in very good condition. Very slight fading, chipping on the spine.