UPDATE - Selling books to Arty Bees.
We are buying books again, we are being selective.
Please call if you have more than 3 boxes.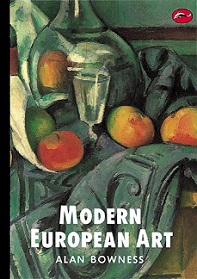 Title:
Modern European Art - World of Art
In this lucid survey of art and architecture during the last 100 years, Bowness shows how experiment and tradition have enriched one another. Beginning withe the naturalist tendencies of the Impressionists in the 1860s and 1870s, he follows the development of art towards constantly new methods of expression to the 1960s. This has been a period during which virtually every assumption made about art has been questioned, turned upside-down and in some cases destroyed. Bowness demonstrated how the broad movements which followed Impressionism, from Expressionism to Abstraction, have evolved and diverged from each other, but he also examines in illuminating detail the contribution of individual artists, such as Manet, Monet, Renoir, Cezanne, Seurat, Van Gogh, Gauguin, Rodin, Matisse, Braque, Brancusi, Picasso, Mondrian, Kandinsky, and many others whose work is discussed and illustrated...