We are buying books again.
Please ring first if you have more than 3 boxes to bring in.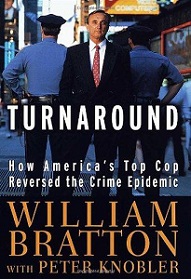 Title:
Turnaround - How America's Top Cop Reversed The Crime Epidemic
Random House, New York, 1998. Second impression. Hardback with DW in tidy condition. Author signature on note to previous owner tipped on front e/p. A former NYPD Police Commissioner tells the story of his career and experiences as a police professional in New York City, fighting crime effectively and earning the respect of cops and law enforcement officials everywhere; discussions include the problems he found within the NYPD and how he resolved them, the waves of crime which he greatly reduced through a variety of novel techniques and strategies - and who helped or hindered theses processes along the way. A very useful book for other police departments to study and politicians to learn from.