UPDATE - Selling books to Arty Bees.
We are accepting books for exchange at the moment.
We may buy selectively for cash, but please contact us first.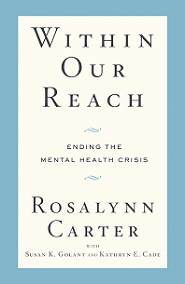 Title:
Within Our Reach: Ending the Mental Health Crisis
In Within Our Reach, Rosalynn Carter and coauthors Susan K. Golant and Kathryn E. Cade render an insightful, unsparing assessment of the state of mental health. Mrs. Carter has been deeply invested in this issue since her husband, former President Jimmy Carter, campaigned for governor of Georgia, when she saw firsthand the horrific, dehumanizing treatment of people with mental illnesses. Using stories from her 35 years of advocacy to springboard into a discussion of the larger issues at hand, Carter crafts an intimate and powerful account of a subject previously shrouded in stigma and shadow, surveying the dimensions of an issue that has affected us all. She describes a system that continues to fail those in need, even though recent scientific breakthroughs with mental illness have potential to help most people lead more normal lives. Within Our Reach is a seminal, searing, and ultimately optimistic look at how far we've come since Jimmy Carter's days on the campaign trail and how far we have yet to go.