We are currently not buying stock
We expect to start again in a couple of weeks
 
We regret any inconvenience this may cause
as usual we are still taking small exchanges and credits
to shop cards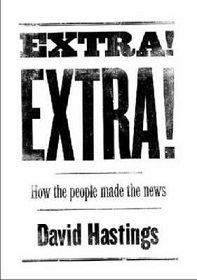 Title:
Extra! Extra! How the People Made the News
Rowing on the Waitemata to grab the latest news from incoming ships. Rushing out a special afternoon edition to the paper boys' cries of 'Extra! Extra!' Crime and shipping news, the arrival of Governor Grey and the fall of Ruapekapeka Pa. From the mid-nineteenth-century rivalry between the New Zealander and the Southern Cross to the establishment of the New Zealand Herald and the Auckland Star as the two papers that would dominate Auckland newspaper life through the twentieth century, the story of Auckland's newspapers is an engrossing battle of wits that reveals much about the history of the people and the press in New Zealand. In Extra! Extra! David Hastings, an accomplished journalist and historian, has undertaken substantial research on numerous newspapers in one period in one town in order both to tell that story and to tackle larger questions. Was it politics or commerce, readers' whims or something else that drove the rise and fall of newspaper empires? Did newspapers lead or follow public opinion on social and political issues? Were they shaped by their owners or their editors? And was the newspaper world in 1900 driven by different forces than that of 1845? The newspaper wars of nineteenth-century Auckland were life or death struggles - with the odds heavily in favour of death. Extra! Extra! tells the story of the newspapers, the editors and reporters and owners who made them, and the readers who decided what was news and which papers would live or die.