We have stopped buying, we are accepting lots for exchange and credit.
Our Winter operating hours are
Monday to Thursday 9am - 6pm
Friday 9am -7pm
Saturday 10am - 7pm
Sunday 11am - 6pm
Arty Bees is now operating under Orange restrictions.
You can order via our website.  All web orders are delivered via PBT Couriers or NZ Post. 
Store pick ups can be ordered online or organised by phone and email.
To keep up with all the Arty Bees news subscribe to our newsletter at the bottom of the page.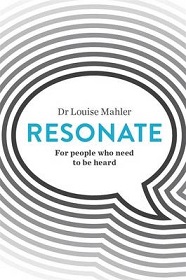 Title:
Resonate - For People Who Need to Be Heard
In Resonate Dr Louise Mahler, voice coach extraordinaire, demonstrates that your mind, body and voice are inextricably linked. By approaching voice through an understanding of the whole body, Louise explains how your state of mind determines the way you hold your body, how your feelings resonate through your voice and how this sequence ultimately influences the efficacy of your communication. She explains the most common ways people react to nerves or excitement, as well as how your listeners respond to your voice and gestures - and how to use these to communicate more powerfully. Whether you struggle to make a point at work or a school committee meeting; whether you're going for the next big job or trying to improve your performance in the one you have; or you simply want better ways to communicate, Resonate will show you how to tune in to your own vocal intelligence, identify the physical and mental blocks that are holding you back, and reclaim your authentic voice. With its practical exercises, inspiring real-life stories and insightful tips, this book will unlock your confidence and show you how to make your message resonate....
Shelf wear and foxing. Dedication by author to previous owner on the prelim page.
Second hand Trade Paperback