We are delighted to be open
Our Queen's Birthday hours on Monday 1 June are 12 till 6.
There are Covid-19 protocols in place to keep our staff and customers safe.
Please abide by these and please don't visit us if you are feeling unwell.
Please note, we will NOT be buying or exchanging books under Level 2.
Thank you for your on-line support during Level 3 and for your patience with the delays in delivery.
We look forward to seeing you all in store soon.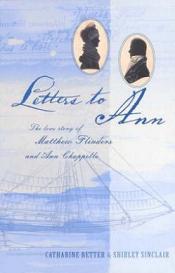 The year was 1801. The explorer Matthew Flinders was shortly to set sail for 'Terra Australis'. Could he possibly win the heart of Ann Chappelle before he departed? She was sweet-natured, clever and dignified and came from a modest though genteel home. Having lost her seagoing father at a tender age, Ann wanted no attachment with a naval man. He was personable, steadfast and ambitious and was making his mark as a navigator in the Pacific. He was torn between his love for the sea and his love for her. They married. Three months later Matthew left for Australia, where he surveyed the southern coast and circumnavigated the continent. It was a time of hostility between France and England. En route home, he was detained by the French - for six years...