We have stopped buying, we are accepting lots for exchange and credit.
Our Winter operating hours are
Monday to Thursday 9am - 6pm
Friday 9am -7pm
Saturday 10am - 7pm
Sunday 11am - 6pm
Arty Bees is now operating under Orange restrictions.
You can order via our website.  All web orders are delivered via PBT Couriers or NZ Post. 
Store pick ups can be ordered online or organised by phone and email.
To keep up with all the Arty Bees news subscribe to our newsletter at the bottom of the page.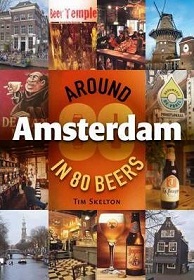 Title:
Around Amsterdam in 80 Beers
Amsterdam, cultural capital of the Netherlands, is a port city cross-crossed by canals and alley ways, its low-rise skyline dotted with town houses and stepped gables. What better way to explore it than by taking in a few beers in its finest cafes? Be our guest as we lead you on the inside track through one of Europe's most exciting cities. Among its many claims to fame and notoriety, Amsterdam has a remarkably vibrant cafe culture. Once the centre of beer trafficking for much of northern Europe, its recent history as the home of the frothy-topped blond lager is being shrugged off, as a new generation of beer importers and local craft brewers slowly nudge in alongside the supermarket beers. Tiny brown cafes with smoke-stained walls put carpets on their table and peanut shells on their floors. Grand cafes in marble and glass ooze opulence and hand-made ales. Marvels of minimalist modern design nestle alongside ancient spirits houses. It is a city built for explorers. For half a century smaller Dutch brewers have been caught in the headlights of the Heineken brewing empire on one side and the craft brewing eccentricities of the Dutch on the other. Yet bubbling below the surface is an increasingly confident band of newer brewers intent on learning from both. Tim Skelton's hand-picked collection of 80 cafes, restaurants, beer shops and the occasional museum selling between them 80 different beers, takes you on a guided tour round the high spots and to places you would never have found without him, along with useful tips on where to eat and a few places in Haarlem.