We are delighted to be open
Our Queen's Birthday hours on Monday 1 June are 12 till 6.
There are Covid-19 protocols in place to keep our staff and customers safe.
Please abide by these and please don't visit us if you are feeling unwell.
Please note, we will NOT be buying or exchanging books under Level 2.
Thank you for your on-line support during Level 3 and for your patience with the delays in delivery.
We look forward to seeing you all in store soon.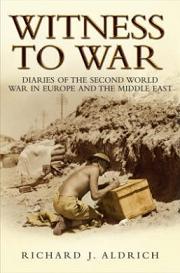 The devastation wreaked upon the lives of hundreds of thousands of people during the Second World War left a sense of transience and frailty that encouraged diaries to be kept on a regular basis. They became a means of preserving human life in some form at least, often recording experiences within minutes or hours of their occurrence. Historian Richard J Aldrich has spent two decades collating the information from diaries such as these to produce two anthologies which, recounted in the first person, are as close to the living experience of the Second World War as we are ever likely to come. In this, the first of the anthologies focusing on the war in Europe, these diaries are intended to capture the Second World War as a global event, using diary material from many different countries and with the voices of children, civilians, ordinary soldiers, commanders, statesmen and spies. Events are recounted chronologically in short extracts, and collectively they capture the immediate and often-surprising thoughts of participants caught up in the twentieth-century's first genuinely global war as they begin their own responses to what they knew would be a unique moment in world history.Keeping these diaries involved a large amount of subterfuge from the writers: either because their existence represented a huge security risk taken by people in high places, or that they contained a store of personal secrets and private impressions, or even that they were kept literally at risk to life and limb, including those maintained by prisoners of war in Japanese death camps. All these diaries were to some degree a hidden 'safety valve' through which the frustrations, tensions and very real fears of World War could be vented.Richard Aldrich's commentary provides a month by month historical overview as well as a brief analysis of key events.