We are now accepting books on exchange and credits to shop cards.
We are not buying stock for cash yet. We are operating under Level 2 restrictions.
Please note that we will require you
* to wear a mask at all times whilst instore
* sign in and sanitise your hands at entry
* maintain a 2m distance between you and other browsing customers
We are here to help you if you need assistance and are happy to organise a delivery for those who are still staying safe at home. Web orders will be processed and delivered via courier and NZ Post.
Store pick ups can be ordered online or organised by phone and email. We will send you an email when your pick up is ready to be collected.
To keep up with all the Arty Bees news, why not subscribe to our newsletter at the bottom of the page.
Our next book club meeting is on Monday 8 November at 6pm.  Check out Facebook or email us to find out more.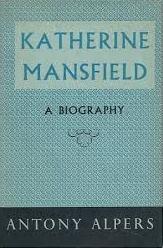 Title:
Katherine Mansfield - A Biography
Published by The Viking Press, New York, 1980, 466 pages. Dustjacket spine faded, with fade mark continuing onto front and back cover, chips, creases and curling to top edge of dustjacket, Small blue pen mark stain to top of some pages
Katherine Mansfield has been the subject of many books and numerous articles. This is the first biography which can claim to be in any way complete. Much of what had been hitherto unknown, or concealed, is here disclosed. Mansfield is now revealed as perhaps a different character from the one popularly accepted - a much more complex character, who suffered and endured much, and to whom much should be forgiven because of the considerable streak of genius with which she had been endowed...