UPDATE - Selling books to Arty Bees.
We are accepting books for exchange at the moment.
We may buy selectively for cash, but please contact us first.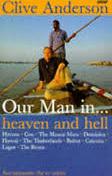 "How close can we get to heaven - or hell - on earth? Clive Anderson sets out - with a suitcase, a tv crew and an unfailing sense of humour - to find the answer. Visiting some of the world's most beautiful places, and some of its allegedly most godforsaken , he finds that while many earthly paradises are all but lost, there is such a thing as a hope in hell"