We have stopped buying, we are accepting lots for exchange and credit.
Our Winter operating hours are
Monday to Thursday 9am - 6pm
Friday 9am -7pm
Saturday 10am - 7pm
Sunday 11am - 6pm
Arty Bees is now operating under Orange restrictions.
You can order via our website.  All web orders are delivered via PBT Couriers or NZ Post. 
Store pick ups can be ordered online or organised by phone and email.
To keep up with all the Arty Bees news subscribe to our newsletter at the bottom of the page.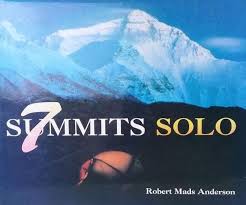 Title:
7 Summits Solo (Seven Summits Solo)
David Bateman, NZ Publisher, 1995. Large format hardback in tidy condition with DW.
Seven Summits Solo is the story of a unique and remarkable mountaineering adventure - the ascents of six of the world's seven summits, solo, including three solo attempts on Everest.
This large format coffee table book features superb photography, from the ridges of a new route on Mt Vinson in Antarctica, to Anderson soloing the Messner Couloir on North America's tallest peak, Mt McKinley, viewed from the route and from Base Camp. This unique and remarkable pictoral adventure, accompanied by the personal story of Anderson's quest, is destined to become part of the great tradition of mountaineering history.