We are now accepting books for exchange only.
Please ring first if you have more than 3 boxes to bring in.
We are not buying books for cash yet. We will keep you posted.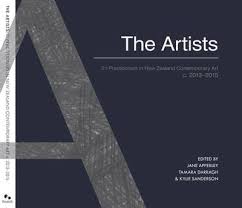 Title:
The Artists - 21 Practitioners in New Zealand Contemporary Art C. 2013-2015
Beatnik Publishing, 2013. The Artists: 21 Practitioners in New Zealand Contemporary Art c. 2013-2015 provides a unique insight into the richness and diversity of New Zealand contemporary art through the work of emerging and established artists represented by a single gallery. Essays have been contributed by 21 of New Zealand's leading art writers, historians, and curators, each offering their own distinctive insights. This diversity of viewpoints creates an absorbing survey of current critical discourse to read alongside portfolios of the artists' work. Featuring over 100 full-colour images of sculpture, video, photography, installation and painting, this book is an enlightening and entertaining snapshot of New Zealand art at this moment in time.