Update: Selling books to Arty Bees.
Many of you have been selling books to us, which is great, but we will be pausing our buying in December.
We are currently being very "choosy" when buying books.
Please call (04)3845339 if you have more than 3 boxes of books.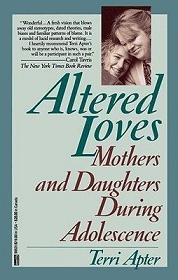 Are mothers jealous of their developing daughters? Is an early mother-child bond severed during adolescence and never formed again? What does adolescence feel like to a girl? Drawing on detailed interviews with mothers and daughters from Terri Apter's research in Great Britain and America, and from recent psychological studies of family interaction, Altered Loves is a frank, moving, and insightful examination of this crucial time in a woman's life. Apter shows that contrary to the classical view of adolescence as a stage in which daughters reject their mothers, adolescent daughters often remain strongly attached to them. The strife that characterizes this period is actually the result of trying to renegotiate a valued relationship. Beautifully written, Altered Loves explodes conventional myths and theories about mother-daughter relationships and offers new and valuable insights that will help mothers remember and daughters understand the delicate, painful, and complex process of becoming a woman.