We are delighted to be open
Our Queen's Birthday hours on Monday 1 June are 12 till 6.
There are Covid-19 protocols in place to keep our staff and customers safe.
Please abide by these and please don't visit us if you are feeling unwell.
Please note, we will NOT be buying or exchanging books under Level 2.
Thank you for your on-line support during Level 3 and for your patience with the delays in delivery.
We look forward to seeing you all in store soon.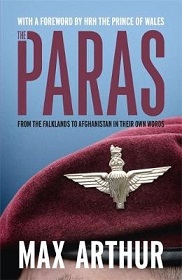 Title:
The Paras - From the Falklands to Afghanistan in their Own Words
Published to coincide with 75th anniversary of its formation, this is the definitive history of the iconic Parachute Regiment, told through the voices of more than 200 of the soldiers themselves. From the daring raids of World War 2 through Northern Ireland, The Falklands, Bosnia and Afghanistan, the Paras have a reputation for being where the fighting is fiercest and the odds of survival are often stacked heavily against them. The gripping, visceral first person narrative makes this book stand apart from conventional regimental histories...
Second hand Trade Paperback