UPDATE - Selling books to Arty Bees.
We are buying books again, we are being selective.
Please call if you have more than 3 boxes.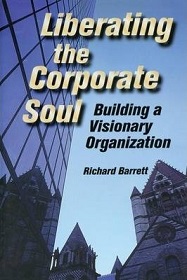 Title:
Liberating the Corporate Soul: Building a Visionary Organization
Butterworth-Heinemann, 1998. Good second-hand condition. The two most critical issues for business today, according to CEO's Barrett has worked with, are: "How to tap the deepest levels of creativity and the highest levels of productivity of our employees." In a world where competition has become global, successful companies are learning to build competitive advantage through their human capital. In the 21st Century, even that will not be enough. Success will also hinge on whether, in the eyes of the employees and society-at-large, the organization is a trusted member of the community and a good global citizen. Developing a values-driven approach to business is quickly becoming essential for financial success. Who you are and what you stand for are becoming just as important as what you sell.