Monday is Labour Day.
Our hours are 12-6.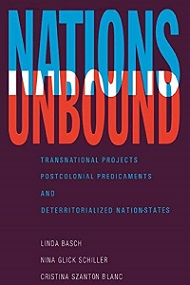 Title:
Nations Unbound: Transnational Projects, Postcolonial Predicaments and Deterritorialized Nation-States
Nations Unbound is a pioneering study of an increasing trend in migration-transnationalism. Immigrants are no longer rooted in one location. By building transnational social networks, economic alliances and political ideologies, they are able to cross the geographic and cultural boundaries of both their countries of origin and of settlement. Through ethnographic studies of immigrant populations, the authors demonstrate that transnationalism is something other than expanded nationalism. By placing immigrants in a limbo between settler and visitor, transnationalism challenges the concepts of citizenship and of nationhood itself.