We are buying books again.
Please ring first if you have more than 3 boxes to bring in.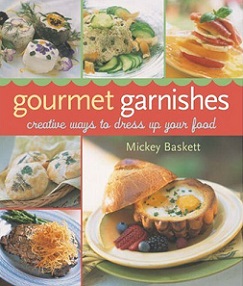 Title:
Gourmet Garnishes - Creative Ways to Dress Up Your Food
Starting in the kitchen and ending at the table, this delectable guide to garnishes teaches the home cook how to prepare elegant dishes suitable for entertaining. Think quick, easy, and luscious: these amazing ideas don't involve time-consuming and intricate preparation. The focus stays on simple tricks for food design that anyone can achieve—whether an artfully poured sauce, pretty pats of butter and cheese, or edible flowers. There's a heaping helping of information on tools and techniques, including tips and shortcuts that even professional chefs use. From roses of smoked salmon to use as an appetizer to chocolate leaves adorning a luscious layer cake, the food looks mouthwatering and tastes delicious.