Our next book club meeting is on Monday 9 August.  Our theme for this month is music.
Call or email us to find out more about the book club.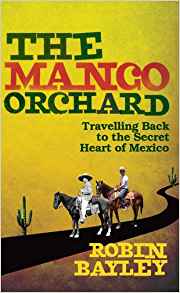 Title:
The Mango Orchard - Travelling Back to the Secret Heart of Mexico
As a child, Robin Bayley was enchanted by his grandmother's stories of Mexican adventures: of bandits, wild jungle journeys, hidden bags of silver and a narrow escape from the bloody Mexican Revolution. But Robin sensed there was more to these stories than anyone knew, and so he set out to follow in the footsteps of his great-grandfather. The Mango Orchard is the story of parallel journeys' a hundred years apart, into the heart of Latin America. Undaunted by the passage of time and a paucity of information, Robin seeks out the places where his great grandfather Arthur 'Arturo' Greenhalgh travelled and lived, determined to uncover his legacy. Along the road Robin encounters witches, drug dealers, a gun-toting Tasmanian Devil and an ex-Nazi diamond trader. He is threatened with deportation, offered the protection of Colombian guerrilla fighters and is comforted by the blessings of los santos. He falls in love with a beautiful Guatemalan girl with mystical powers and almost gives up his quest, until a sense of destiny drives him on to western Mexico and the discovery of much, much more than he had bargained for.