Update: Selling books to Arty Bees.
Many of you have been selling books to us, which is great, but we will be pausing our buying in December.
We are currently being very "choosy" when buying books.
Please call (04)3845339 if you have more than 3 boxes of books.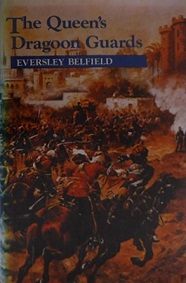 Title:
The Queen's Dragoon Guards
The Queen's Dragoon Guards were formed in 1959 by the amalgamation of two of Britain's oldest and most famous cavalry regiments - The King's Dragoon Guards and the Queen's Bays. Both regiments were formed in 1685 and both brought to this military union an equal bounty of history and tradition founded upon over two and a half centuries of loyal service to the Crown. Belfield skilfully weaves together the stories of the two original regiments, unearthing many hitherto unpublished contemporary documents, helping to convey the experiences and emotions of the private soldier of the time. In WW2 both regiments showed that they had adapted themselves with remarkable aptitude from the world of the horse to the armoured role, and the new incarnation continues to uphold and honour their esprit de corps...