Anzac Day Hours:
Sunday 25 April - ANZAC Day 1-7pm
Monday 26 April - 12 -6pm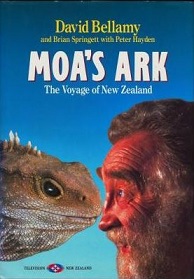 Title:
Moa's Ark: The Voyage of New Zealand
Published by Viking Penguin Books (NZ) Ltd, 1990. Ex-library with the usual stamps. David Bellamy takes us through a series of windows into New Zealand's distant past. Through these windows the journey of the New Zealand ark unfolds, shedding dinosaurs and ancient plants, taking on birds, warm-blooded mammals and flowering plants, and finally welcoming a new passenger, humans - with devastating effect.