Thanks to everyone who saw our note that we are buying again.
The response has been huge.
So huge that we need to slow down in order to get all the books
we have bought over the last 2 weeks on the shelf for you to buy.

We are still buying but selectively.
So, please call if you have more than 3 boxes.
Some sections are overflowing, particularly children's, detective and cooking.

On a similar note if you are looking for
Children's books, detective novels or cook books, we have heaps of new stock.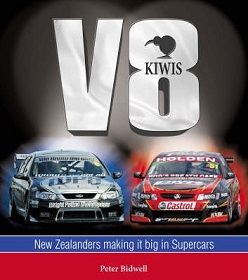 Title:
V8 Kiwis: New Zealanders Making it Big in Touring Cars
Hodder Moa/Hachette, 2006. Previous owner's inscription inside. New Zealanders are increasingly captivated by the Australian Ford versus Holden V8 touring car series, fuelled with deeds of the many Kiwis involved. Greg Murphy, Steven Richards and Paul Radisich are among the most accomplished drivers and have had phenomenal success at both the Bathurst 1000 and Pukekohe. V8 KIWIS focusess on the succes and failures of the New Zealand members of the V8 Touring Championship. It takes a strong look at New Zealand's involvement, including the drivers' and teams' stories, the fascination with Bathurst, and how the Ford versus Holden battle, into its 13th year, has developed.