We are now accepting books on exchange and credits to shop cards.
We are not buying stock for cash yet. We are operating under Level 2 restrictions.
Please note that we will require you
* to wear a mask at all times whilst instore
* sign in and sanitise your hands at entry
* maintain a 2m distance between you and other browsing customers
We are here to help you if you need assistance and are happy to organise a delivery for those who are still staying safe at home. Web orders will be processed and delivered via courier and NZ Post.
Store pick ups can be ordered online or organised by phone and email. We will send you an email when your pick up is ready to be collected.
To keep up with all the Arty Bees news, why not subscribe to our newsletter at the bottom of the page.
Our next book club meeting is on Monday 8 November at 6pm.  Check out Facebook or email us to find out more.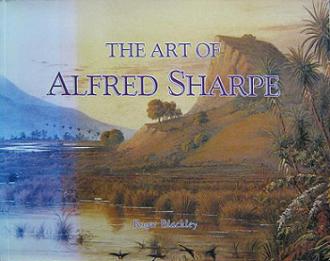 Title:
The Art of Alfred Sharpe
Auckland City Art Gallery/David Bateman, Auckland, 1992. Paperback with fading to spine.
49 Colour plates reproducing Sharpe's works, while a further five appear among the black and white illustrations.
Alfred Sharpe (1836-1908) played a leading role in Auckland's art culture of the 1870s and 1880s, receiving support exclusively from private collectors. No example of his work was acquired for a public collection until well into the twentieth century, when details of his career had been forgotten. Sharpe was destined to become the enigma of New Zealand art history, reputedly a deaf mute, the details of whose birth, life and death were unknown.
By patiently sifting through the evidence in old newspapers Roger Blackley has excavated an astonishing story of Sharpe's struggle for recognition as an artist.