From Wednesday 8 September we will operating under Level 2 restrictions.  We will be returning to usual opening hours.
Please note that we will require you
* to wear a mask at all times whilst instore
* sign in and sanitise your hands at entry
* maintain a 2m distance between you and other browsing customers
We are here to help you if you need assistance and are happy to organise a delivery for those who are still staying safe at home.
We will not be buying books until we return to Level 1.
Web orders will be processed and delivered via courier and NZ Post.  Store pick ups can be ordered online or organised by phone and email.  We will send you an email when your pick up is ready to be collected. 

To keep up with all the Arty Bees news, why not subscribe to our newsletter at the bottom of the page. 
Our next book club meeting is on Monday 11 October at 6pm.  Our theme for this month is the book that you would recommend to almost anyone.  Check out Facebook or email us to find out more.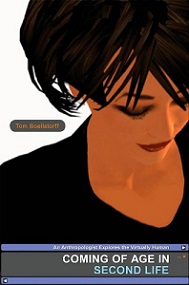 Title:
Coming of Age in Second Life - An Anthropologist Explores the Virtually Human
Millions of people around the world today spend portions of their lives in online virtual worlds. Second Life is one of the largest of these virtual worlds. The residents of Second Life create communities, buy property and build homes, go to concerts, meet in bars, attend weddings and religious services, buy and sell virtual goods and services, find friendship, fall in love--the possibilities are endless, and all encountered through a computer screen. At the time of its initial publication in 2008, Coming of Age in Second Life was the first book of anthropology to examine this thriving alternate universe.
Coming of Age in Second Life shows how virtual worlds can change ideas about identity and society. Bringing anthropology into territory never before studied, this book demonstrates that in some ways humans have always been virtual, and that virtual worlds in all their rich complexity build upon a human capacity for culture that is as old as humanity itself. Now with a new preface in which the author places his book in light of the most recent transformations in online culture, Coming of Age in Second Life remains the classic ethnography of virtual worlds.