We are buying books again.
Please ring first if you have more than 3 boxes to bring in.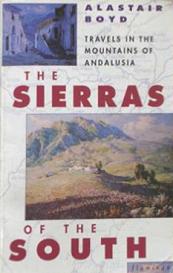 Just inland from the high-rise hotels and tourist beaches of Marbella and the Costa del Sol rise the mountains of the Serrania de Ronda. It is a region of great natural beauty and diversity: picturesque villages clinging to spectacular crags; vast forests of cork-oaks; smallholdings struggling to survive along the riverbanks. Here the ancient rhythms of Spanish rural life continue: the leisurely evening "paseo", the annual cycle of feast days and holy processions, and, above all, the bullfight. Alastair Boyd lived in the region for 20 years. This book is a celebration of the unique character and beauty of the Andalusian hinterland, but it has wider implications. Has this mountainous community the will and the capacity to preserve its human scale and diversity? For how long can this latter-day Arcadia resist the advance of conformity and indiscriminate development? And do the Arcadians themselves want to resist it?...