Monday is Labour Day.
Our hours are 12-6.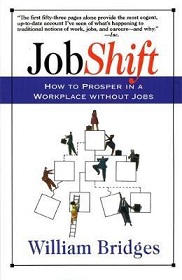 Title:
Job Shift - How to Prosper in a Workplace Without Jobs
The bad news, according to this ground-breaking book by top consultant William Bridges, is that jobs are disappearing. The good news is that a job isn't the only way that people work to earn a good living. In fact, it's no longer the best way. Our idea of a "job" was invented during the Industrial Revolution, and is out of synch with today's technological and economic forces. JobShift shows how we can thrive in our de-jobbed future. Its "Career Guide for the 21st-Century Worker" will help you to rethink your work so you can create your own "job security".