We are currently not buying stock
We expect to start again in a couple of weeks
 
We regret any inconvenience this may cause
as usual we are still taking small exchanges and credits
to shop cards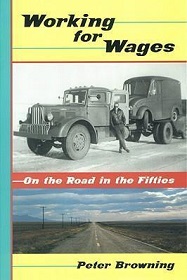 Title:
Working for Wages: On the Road in the Fifties
A memoir of a decade on a driveaway jobdriving new cars and trucks from Detroit to Los Angeles. A humorous and moving account of a vanished way of life in a country that has changed beyond belief during the past 50 years. Vivid use of colloquial language: the American language, as she is spoke. True tales, with the names changed to protect the innocent and the guilty alike.