UPDATE - Selling books to Arty Bees.
We are accepting books for exchange at the moment.
We may buy selectively for cash, but please contact us first.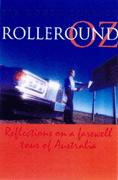 owards the end of his tenure as High Commissioner to Australia, Sir Roger Carrick, his wife and his regular driver embarked on a trip around Australia in the ambassadorial Roller. The official purpose was to say goodbye to all the people he had met and worked with during his time in Australia. His personal aim was to see some of the real Australia. The reader rides with the Carricks right around the country, enjoying the scenery and the people they meet, talk, joke and eat with; and their reaction to the Rolls Royce. We learn something of what a High Commissioner actually does to advance the interests of his country and its economy, and of what he thinks of some of Australia's leaders. We learn how a Government representative and his wife get on with journalists who interview them during the journey and how the High Commissioner hears of the death of Diana, Princess of Wales as he drives a Rolls, hundreds of miles from anywhere, in the the Northern Territory.
Second hand Trade Paperback