Thanks to everyone who saw our note that we are buying again.
The response has been huge.
So huge that we need to slow down in order to get all the books
we have bought over the last 2 weeks on the shelf for you to buy.

We are still buying but selectively.
So, please call if you have more than 3 boxes.
Some sections are overflowing, particularly children's, detective and cooking.

On a similar note if you are looking for
Children's books, detective novels or cook books, we have heaps of new stock.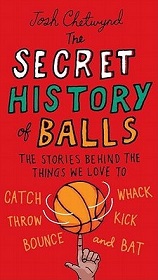 Title:
The Secret History of Balls - The Stories Behind the Things We Love to Catch, Throw, Bounce, Whack, Kick and Bat
You may fancy yourself a sports fan, but chances are you don't know that a fish eyeball was used as the center of some nineteenth-century baseballs; that the race to make better billiard balls led to the invention of plastics; and the Nerf ball was originally created to be part of a board game featuring cavemen. Balls are the unsung heroes of sports. They are smacked, flung, dribbled, crushed, thrown, and kicked. They're usually only the subject of scrutiny when something goes wrong: a tear, the application of an illegal foreign substance, or a dent from overuse. Nevertheless, if you're watching nearly any major sporting event from around the world, you're likely following the ball wondering where it will go next... The Secret History of Balls mines the stories and lore of sports and recreation to offer insight into 60 balls-whether they're hollow, solid, full of air, or stuffed with twine or made of leather, metal, rubber, plastic, or polyurethane-that give us joy on playing fields and in every arena from backyards to stadiums around the globe...