Due to Covid 19, Arty Bees is
now closed until further notice.
Including on-line shopping.
We'll see you when things get back to normal.
Stay home and stay safe.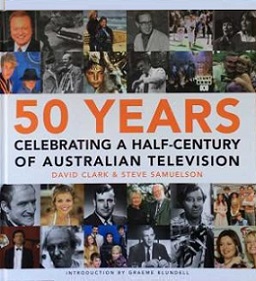 Title:
50 Years Celebrating - A Half Century Of Australian Television
In September 2006, television in Australia will have been broadcasting for half a century - this book celebrates that anniversary with a comprehensive, highly illustrated large format account of those years. Here for the first time is a complete history of Australian television from its beginnings and coverage of the Melbourne Olympic Games through to Kath & Kim. Set out year by year, AUSTRALIAN TV THROUGH TIME brings together the stories behind the evolution of its broadcasting and production companies, and the famous TV shows and actors and personalities that have appeared on our flickering tube. Each year comprises stories of notable events and personalities for that year as well as Logie award winners, Quotable Quotes, 'fact files', a timeline, and the Hit Program of the Year. All in an accessible and appealing magazine-style design. Not only does AUSTRALIAN TV THROUGH TIME provide an important survey of Australian TV's first half century, it's a fascinating read that buyers will dip into time after time.