We are delighted to be open
We are open normal hours.
There are Covid-19 protocols in place to keep our staff and customers safe.
Please abide by these and please don't visit us if you are feeling unwell.
Please note, we will NOT be buying or exchanging books under Level 2.
Thank you for your on-line support during Level 3 and for your patience with the delays in delivery.
We look forward to seeing you all in store soon.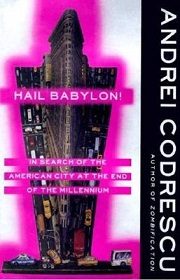 Title:
Hail Babylon - In Search of the American City at the End of the Millennium
Andrei Codrescu, longtime observer and commentator on things odd and American, takes us on a personal tour through our withered yet increasingly alluring urban landscapes. Our trusted, if sometimes irreverent, guide visits New York, Baltimore, New Orleans, Little Rock, San Antonio, Albuquerque, Las Vegas, San Francisco, and Portland, Oregon (and points beyond, including Oxford, Mississippi; Salem, Oregon; and California's seaside jewel, La Jolla). Codrescu - while recognizing that cities are under attack by the political right, buffeted by the ever-proliferating prefab town house, beset by crime, and questioned from within - shows us that they are also still flourishing, in fact becoming invaluable models of multiethnic, multicultural living. Taken together, these striking urban portraits sound an extremely hopeful message as Codrescu astutely considers "the city as wilderness", a place where the ecology of human desires and the work of the mind find their optimum conditions....