Due to Covid 19, Arty Bees is
now closed until further notice.
Including on-line shopping.
We'll see you when things get back to normal.
Stay home and stay safe.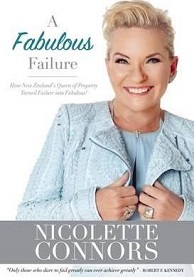 Title:
A Fabulous Failure - How New Zealand's Queen of Property Turned Failure into Fabulous!
Published by Primrose NZ Press, Christchurch, 2016, 222 pages. Failure is just another life lesson. Learn from it and move on. Known as New Zealand's Queen of Property Investment, Nicolette Connors' life has been one hell of a rollercoaster ride. Enjoying mega riches and business success, she also danced with the dark side, enduring bankruptcy, domestic violence and depression. With bags of smarts, passion and a strong entrepreneurial spirit, Nicolette cut a dash in advertising, film, television and publishing, creating cheeky start-up companies that were the envy of many. She also found time to marry (twice) and become a devoted mother to son Nico. And while relationships were Nicolette's nemesis -- breaking both her heart and her bank balance -- resilience became her middle name. Telling her story with disarming wit and candour, Nicolette sees her failures in business and relationships as fabulous lessons, ones which have ultimately led to her current happiness and success.