Thanks to everyone who saw our note that we are buying again.
The response has been huge.
So huge that we need to slow down in order to get all the books
we have bought over the last 2 weeks on the shelf for you to buy.

We are still buying but selectively.
So, please call if you have more than 3 boxes.
Some sections are overflowing, particularly children's, detective and cooking.

On a similar note if you are looking for
Children's books, detective novels or cook books, we have heaps of new stock.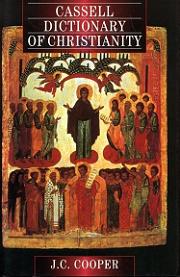 Title:
Cassell Dictionary of Christianity
A comprehensive reference to saints, popes, martyrs, orders, heresies, schisms and movements across all the main branches of Christianity, this book presents an alphabetically-ordered volume of essential facts about the Christian churches. Short entries cover their history, beliefs and doctrines, festivals, offices and vestments. Biblical statistics and information on the main editions of the Bible are also included...
Second hand Trade Paperback