We are now accepting books on exchange and credits to shop cards.
We are not buying stock for cash yet. We are operating under Level 2 restrictions.
Please note that we will require you
* to wear a mask at all times whilst instore
* sign in and sanitise your hands at entry
* maintain a 2m distance between you and other browsing customers
We are here to help you if you need assistance and are happy to organise a delivery for those who are still staying safe at home. Web orders will be processed and delivered via courier and NZ Post.
Store pick ups can be ordered online or organised by phone and email. We will send you an email when your pick up is ready to be collected.
To keep up with all the Arty Bees news, why not subscribe to our newsletter at the bottom of the page.
Our next book club meeting is on Monday 13 December at 6pm.  Check out Facebook or email us to find out more.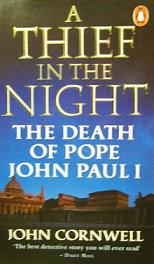 Title:
A Thief in the Night - The Death of Pope John Paul I
On the eve of September 28, 1978, Pope John Paul I died unexpectedly-apparently of a heart attack - after a reign of only thirty-three days. Within the Vatican there were serious disagreements about the time of death, who found the body, and the true state of the Pope's health prior to his death. These arguments led to rumours of foul play and conspiracy - variously involving the KGB, the freemasons, crooked financiers, and Vatican officials. In 1987 the Vatican invited John Cornwell to conduct a new, independent investigation into the true circumstances of the Pope's death. In A Thief in the Night Cornwell tells the story of his search, including a startling theory about John Paul I's untimely demise - and a chilling and unsurpassed look inside one of the world's oldest, most secretive institutions...